While IPR gets a lot of attention, the strategic value of reissue should not be overlooked. Reissue is a post-grant proceeding that may be a useful way to amend a patent facing IPR. Although claim amendments are allowed during the IPR proceeding, the types of amendments that can be made are currently limited, and patent owners must make their case for amendment under tight deadlines and page limits. As such, only in a handful of IPR trials have claim-saving amendments been allowed.
If reissue can occur quickly—particularly when a competitor is in the market and time for getting enforceable patent rights is tight—it can be a way to avoid the issues with amendment that accompany IPRs. But historically, the reissue process has not been quick, significantly diminishing its value. So when a client came to us several months ago and asked about current reissue pendency times, we did some digging online. Not finding that anyone had crunched the data recently, we did it ourselves, and discovered that the typical pendency times for reissue have fallen dramatically.
In fact, the average pendency of reissued patents fell from 5.3 years in 2009 to 3.5 years in 2014. Even better, the median pendency of reissued patents fell from 4.5 years to 2.1 years. This dramatic change can be seen in the chart below, which shows that the third quartile in 2014 is lower than the median in 2009 and the median in 2014 is lower than the first quartile in 2009: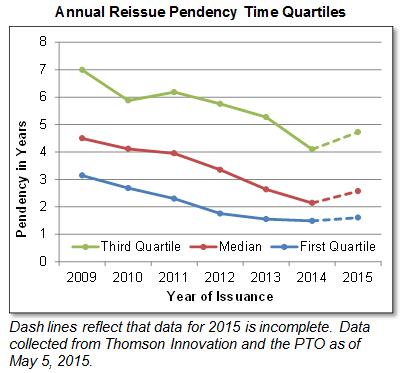 As a result, we thought it was time to take a fresh look at reissue as a viable option. To read more of our analysis, including strategic considerations and lessons learned from this data, check out our recent article in Bloomberg BNA's Patent, Trademark & Copyright Journal. For a primer on reissue and how it compares to other post-grant options, download our Post-Grant Proceedings Q&A booklet.