IPR is a common way to challenge patents covering pharmaceutical compounds, often on grounds of obviousness. As illustrated in the recent decision in in Mylan Pharmaceuticals Inc. v. AstraZeneca (IPR2015-01340), such IPRs may rely on a "lead compound analysis" involving a two-prong inquiry that asks: (i) whether a structurally similar prior art compound would have been selected as a "lead compound" and (ii) whether there was motivation to modify that compound to arrive at the claimed compound.
As discussed in our prior post, the Board in Mylan concluded that the petitioner failed to provide credible evidence supporting its position on the first prong (i.e., that its proposed lead compound would have been selected). The petitioner's problems did not end there, however, as the Board also concluded that it failed to satisfy its burden in relation to the second prong. In reaching this conclusion, the Board considered the petitioner's evidence that a skilled chemist would have been motivated to transform the alleged lead compound into the claimed compound via three modifications, as illustrated below: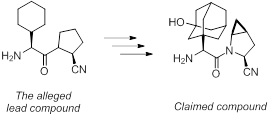 The Board faulted the petitioner for not proving that a skilled chemist at the time of the invention would have been motivated to perform any one of the three modifications with a reasonable expectation of increasing potency or stability, citing unpredictability in the prior art as evidenced by the petitioner's own submissions. The Board also faulted the petitioner for not showing that all three modifications would have been made together (i.e., sequentially), reasoning that each modification could affect the outcome of the next modification in unpredictable ways. Thus, the Board held that even if all the modifications were individually obvious, the petitioner could not neglect to explain why performing the modifications together would have been obvious.
With respect to the second prong of the lead compound analysis, the Mylan decision reminds petitioners and patent owners alike that while particular chemical modifications may be known, being a known option alone is not enough to support a conclusion of obviousness. The Board requires more.
Takeaways
This decision illustrates the difficulty petitioners may have with showing that a pharmaceutical compound is obvious, particularly when it is several modifications removed from an alleged lead compound. Petitioners should bear in mind the importance of showing the obviousness of modifications, both individually and collectively. Patent owners should point out whenever petitioners fall short of that standard.